Map Unavailable
Date(s):


Friday October 30, 2020



Time:


7:30 pm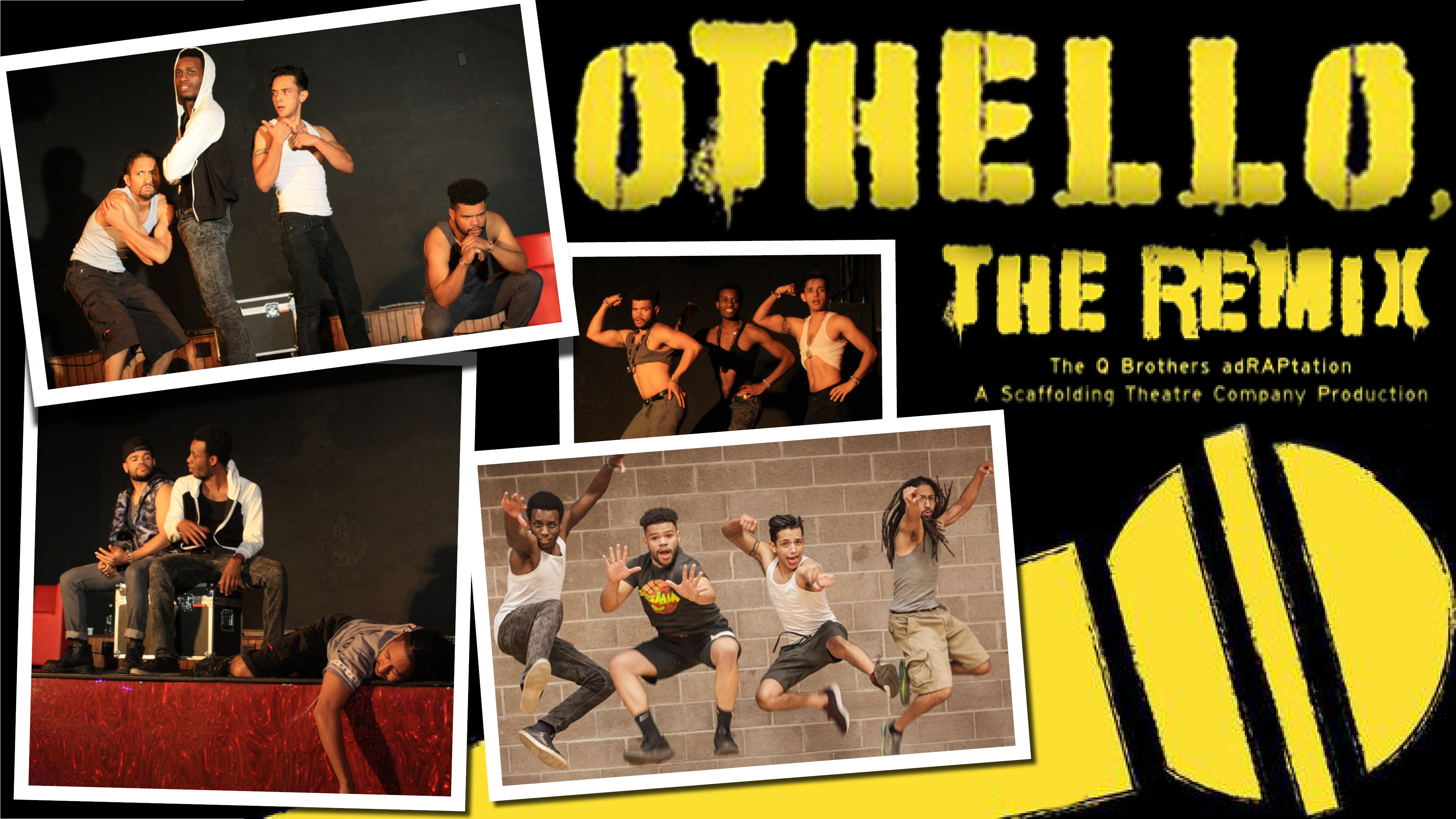 Re-STREAMING 10/30 – 11/1/20
bY sPECIAL aRRANGEMENT with Dramatists Play Service, Inc., NY &
Scaffolding Theatre Company
Solely for the NM Tech Performing Arts Series
TOXIC MASCULINITY.
BLACK LIVES MATTER.
WHAT DID SHAKESPEARE HAVE TO SAY ABOUT IT?

About the Show
THE Q BROTHERS' OTHELLO: THE REMIX was commissioned for The Globe to Globe Festival by Shakespeare's Globe, Chicago Shakespeare Theater and Richard Jordan Productions. The production had its World Premiere on May 5, 2012, at Shakespeare's Globe in London. THE Q BROTHERS' OTHELLO: THE REMIX was presented at the National Alliance for Musical Theatre's Festival of New Musicals in 2015.  It was produced by the Las Cruces-based Scaffolding Theatre Company in 2018, playing in Las Cruces and Albuquerque.  For this Covid era, Megan McQueen realized she could now get "streaming" licensing rights and remounted the production for a three-day stream in July.  She contacted NMT PAS, and now Socorro is getting its very own licensing for re-stream for a 3-day run, cool, yes?!
CAST
Othello, et al……………………………………………..Josh Horton
Iago, Brabantio, et al…………………………………Julian Alexander
Roderigo, Bianca, Loco Vito, et al……………. Juan Apodaca
Cassio, Emilia, et al……………………………………Mark Kitanga
DeeJay K.0………………………………………………. Karina Ortega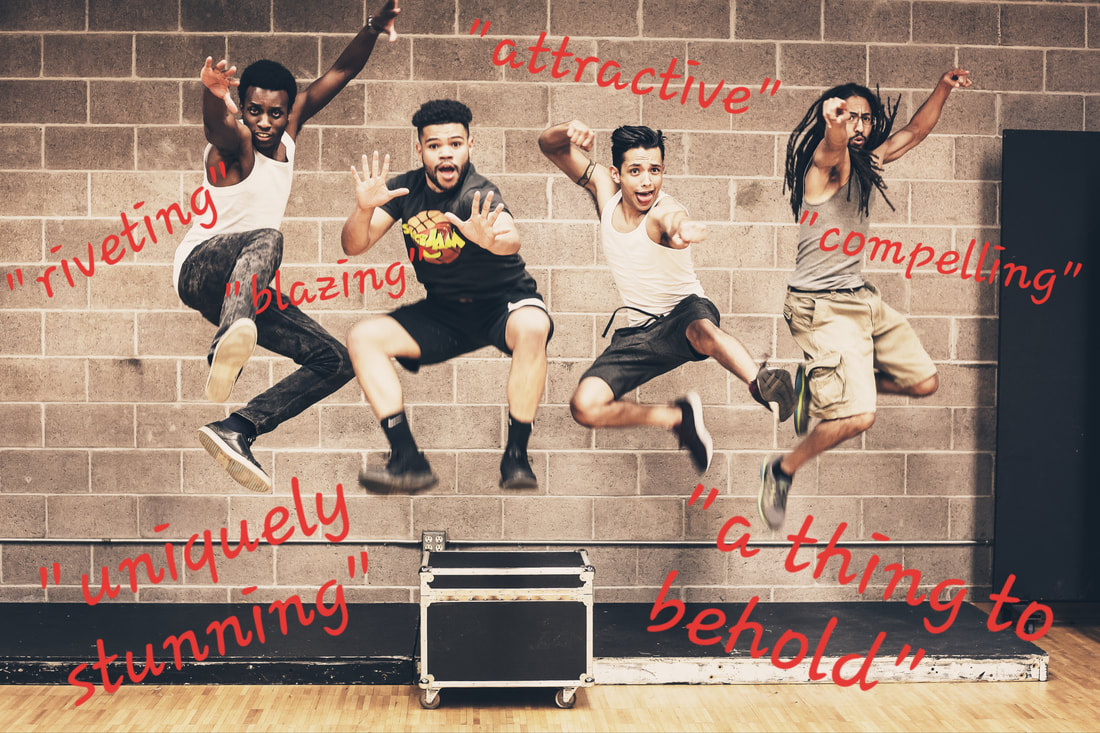 About the Cast
JOSH HORTON (Othello, et al) just completed his second of three years in pursuit of an MFA from the University of Nevada Las Vegas. There he has appeared in Macbeth, Take Me Out, and Bomb-itty of Errors, among others. While earning a theatre arts degree at NMSU, he performed in over a dozen projects, including Julian's production of Bomb-itty of Errors, and award winning turns in NMSU's productions of The Misanthrope and Twelfth Night.
JULIAN ALEXANDER (Iago, Brabantio, et al) makes a temporary return to Las Cruces after earning an MFA from Leeds Beckett University. His impressive achievements range from producing and performing in another of the Q Brothers' fabulous Shakespearean "adRAPtations," The Bomb-itty of Errors (2015 and 2016) to having screened work in the short film corner of Cannes International Film Festival (2016). He is currently an adjunct professor of film at both NMSU and EPCC. #suitsandfrogs
JUAN APODACA (Roderigo, Bianca, Loco Vito, et al) appeared in Scaffolding's last production, Five Course Love. After years performing in roles ranging from Princeton in Avenue Q to the title role in Bloody, Bloody Andrew Jackson at El Paso Community College, he has participated in several musical revues throughout Las Cruces. Most recently, he played Roger in NMSU's production of RENT.
MARK KITANGA (Cassio, Emilia, et al) found a passion for performing while appearing as Horse in The Full Monty and Donkey in Shrek, both at Las Cruces Community Theatre. He has since appeared in Conference of the Birds for No Strings Theatre Company, and in a variety of musical numbers for Broadway Today and around the community. He is currently employed as a systems analyst at NMSU.
MEGAN MCQUEEN (Scaffolding Co-Founder, Artistic Director) has taught general education and musical theatre courses for New Mexico State University's Department of Theatre Arts since 2013. Highlights of musical roles include Fosca in the regional premiere of Passion in Pennsylvania (a role reprised for Scaffolding), several roles in Titanic in Massachusetts, the Witch in Into the Woods for Doña Ana Lyric Opera, Anna in The King and I for UTEP Dinner, and Luisa in Scaffolding's Nine. She has produced and/or directed dozens of musicals, plays, and revues in Las Cruces, many during her thirteen years of teaching music and theatre locally. In July, Megan is playing Nellie Forbush for director Justin Lucero's South Pacific at UTEP Dinner Theatre.
NOTE from NMTPAS  We have presented two excellent Scaffolding Theater Company Productions in Socorro–Beauty & the Beast and Five Course Love –and a couple musical theater short performances for Tech Club Macey.  Megan McQueen has a special connection to Socorro and New Mexico Tech via her husband Matt Reiter, who grew up in Socorro, is a music educator and son of NM Tech Professor Emeritus Marshall Reiter and retired teacher Bonnie Reiter.  We at NMTPAS think that Megan McQueen is an artistic visionary of the highest order, who is an infinitely talented producer, director, actress, vocalist and educator who we feel honored to be able to collaborate with and brainstorm about possibilities.  Thanks so much to Megan for sharing with us her current and exciting Covid-era online theatre projects and allowing us to work together to offer this production special for the NMTPAS Socorro Audience.
KARINA ORTEGA (DJ K.O.) is a senior at NMSU studying Theatre Arts with a focus on Stage Management. She previously worked on ASTC's productions of Equivocation, Urinetown, Servant of Two Masters, and Rent as co-stage manager, and stage-managed The Odyssey. She assisted on Scaffolding's touring production of Beauty and the Beast in countless ways.
PRODUCTION STAFF
Lighting Designer, Light Board Operator, & Technical Director…………….Sam Tyson
Choreography for Cassio Glide, Puppetmaster, & Cassio Chop Screw….Karlos Saucedo
Stage Manager, Sound Operator, Production Photographer………………..Karina Ortega
Production Assistant……………………………………………………………………………..Sammi Armstrong
SCAFFOLDING THEATER COMPANY
In 2014, after years of professional interaction and deep friendship, Megan McQueen of Las Cruces and Justin Lucero of El Paso founded Scaffolding Theatre Company. As both have worked for years as educators with a range of students from elementary to college levels, they wished to create a company that embraced the concept of life-long learning. Their mission is to produce musicals uniting experienced musical theatre performers with promising novices, accompanied by professional musicians, with a focus on process as much as product. In addition to thriving careers teaching and directing for numerous organizations, since 2014, the pair have now produced five musicals. Most notably, their 2015 take on the musical Chicago earned national attention via Playbill.com who later went on to list New Mexico State University among Pace, Yale, Stanford, and Harvard as innovative drama programs.
DIRECTOR'S NOTES
In the summer of 2013, my husband Matt and I squeezed in a four-day vacation during the week because I was performing in two musicals at El Paso Community College. We booked tickets on a whim to one of the only shows we could find on those odd dates; Chicago Shakespeare was presenting a rap adaptation of Othello. It renewed our enthusiasm for theatre and its ability to reach people of any background, age, and interest. It was a fresh, inventive, moving, exhilarating take on a story that is still unbelievably resonant. Though principally the four thrilling men at the center of this project have been ridiculously fun and silly for hours on end ("fox key, fox key"), we have also spent many an intense moment delving into the race and gender issues at the center of this play. We shared deeply personal experiences of anguish over being treated like an other at various points in our lives. They endured my breaking into tears while sharing statistics I'd researched on women losing their lives at the hands of partners (a recent study from the CDC indicates an average of 3 American women a day are murdered at the hands of significant others). I still enjoy perma-grin watching this fantastically fun adaptation of a story that's stood the test of time, and we wish you as much laughter and seat-dancing as you see fit during the show. But we also hope that the story inspires conversation and contemplation about who we value, who we envy, and who we sabotage and why. I will never forget the people who have made this project what it is, especially the four young men who are at turns impressively go-getting, shockingly empathetic, wonderfully charming, always enthusiastic, and delightfully unpredictable. Because of people like them, I hold on to some hope that movements such as Black Lives Matter, Time's Up, and Me Too may one day be strange annotations in history books of a society that values all humanity
WHAT'S THE WORD?
"… a thing to behold… ​I was mesmerized by the talent of its four stars….
The impact of this lyrical, rhythmic, emotional play can't be described well enough to do it justice. You have to see it."
– Las Cruces Bulletin Publisher Richard Coltharp
Mark Medoff called our 2018 production
"riveting" and "blazing."
"Josh, Julian, Juan and Mark
are attractive and compelling
just standing still, but
'Othello: The Remix'
lets each one show off his skills and versatility
as an actor, singer, dancer and rap artist
with individual and collective
grace, style and energy."
-Mike Cook, Las Cruces Bulletin Review