Date(s):


Saturday September 25, 2021



Time:


1:00 pm - 7:00 pm



Location:


Macey Center
---

Showtime: 1:00 – 7:00pm
Online Location:  Facebook ; YouTube
Location: Macey Center Parking Lot by RSVP
and/or Walk or Bike-in and Sign-In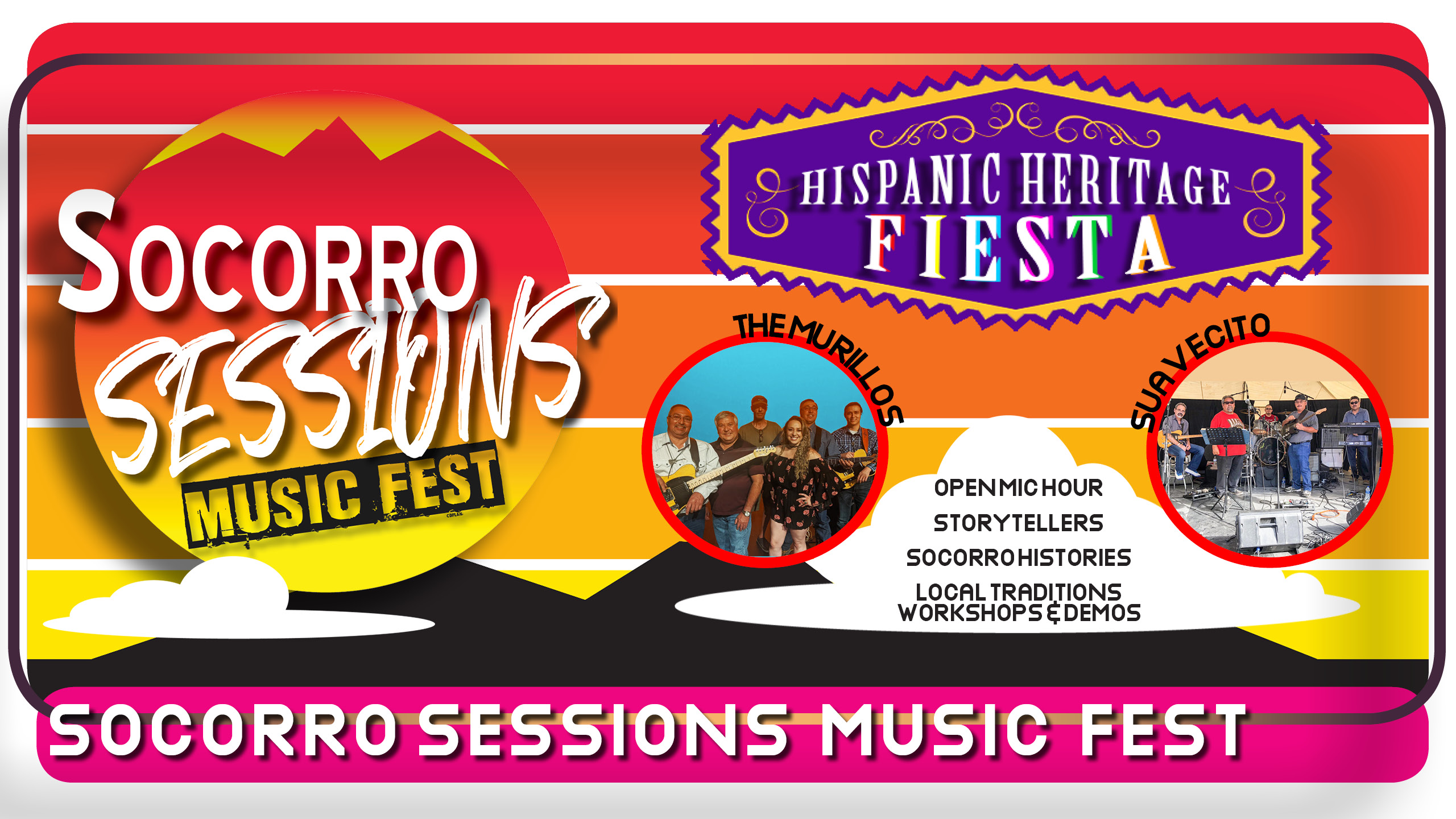 About the Show
Celebrating National Hispanic Heritage Month Socorro style, inspired by NM Tech's Hispanic Studies professor Matthew Johnson and his students, in collaboration with local community members (Frances Cases, Val Anaya, Luz Barreras Ross and others), the NM Tech Performing Arts Series and Macey Center staff, there will be a variety of activities anchored by Socorro's favorite Spanish variety bands The Murillos and Suavecito, and lots more!  Activities include an open mic (email pas@nmt.edu if you are interested in performing a couple songs); a variety of Socorro & NM traditional Hispanic food and arts vendors; demonstrations and talks on chile roasting, tortillas, bisquechitos and Matanza; speakers and storytellers; dancers and more!
The Bands
Suavecito is a variety six-piece band from Socorro, performing New Mexico Spanish, country, oldies, funk, R & B, Top 40 and rock. They typically are the final band performing for Socorro's annual Fourth of July Celebration. Suavecito performs for weddings, retirement parties, Christmas parties, graduations, church fiestas, local events for the City of Albuquerque and Matanzas.  They performed at the Route 66 Casino in Albuquerque and the Sky City Casino in Acoma. One of their highest honors was playing for the Archbishop Michael J. Sheehan at the re-dedication of the Catholic Church in Isleta. The six-piece band consists of two guitar players, bass, keys, and drums. Members of the band include two former members of La Raza Unida, whose songs still air on 89.1 KANW radio station in Albuquerque. Together they possess over a hundred years of musical talent that keeps the dance floors packed. Suavecito has a CD titled "Que Padre" and are working on another recording. They have sold over a thousand copies and have had great feedback.

The Murillos
The Murillos are a perennial favorite local band, playing on numerous occasions around Socorro County. Having played two concerts, without an audience, for NMT PAS during the pandemic, then the 4th of July Celebration, finally a live event, they are now excited for another event for a live audience!  Varying combinations of the Murillo family have been playing together for years, said Richard Murillo. "Any time anyone needs us, we play. We enjoy playing together as a family." This performance will be anchored by the father-daughter combo of Richard and Tori plus a couple new members on drums and keyboards, to be announced.  The group brings out a good crowd, always ready to dance to their music, a wide variety of Spanish favorites, classic rock, country and new sounds.